ME Version 44.0
44 and I've got more.
When people see my toenails that have fallen off and/or are still growing back, or hear about the real grit of ultra running with its constant race challenges and demanding training, I get asked the question as to why I would want to do it since it sounds a little crazy.
A: Yes, I under stand that it does. My life isn't about toenails or just reading about adventure.
I love digging deep and finding a part of me that can't exist without ultra. A part on me that wants to stop at nothing to experience what to many is impossible—and at times impossible in my own mind. Getting past the pain is worth it and trying to figure out how to make it through a beautiful yet difficult or technical course pushes me to keep putting one foot in front of the other. In an ultra race, it's a guarantee to have surprises and it isn't a given to finish. Adaption and problem solving is a must. Ultra races are consistently inconsistent from feeling great at mile 31 and crashing mile 45. It's never going to be perfect—so except it.

The experience can be life changing and no one runner will have the same story at the end of the journey. I cheer for each runner I see out there, even if it's in my head. I love hearing the stories of other runners or my crew and laughing about it all later. I delight in the companionship of other runners working on similar goals—who I think are just amazing and inspirational. I don't always have a team to help me, but when I do the shared camaraderie with crew and pacers enriches my life. I hope the connection enriches their's.
So there you have it. I hope I can always find the priceless joy of an ultra with soft trail beneath my feet, rocks and roots to keep me humble, feel the wind, rain, and heat of the sun on my skin, share the journey with undeniably positive people, make it through the night to see the sunrise … and cross that 100 mile finish line one day real soon to knock off another impossible notion.

Stay positive even in a storm and find your

FOCUSED DRIVE

.

JGP
ME Version 42.0
At 42, I am not a newbie anymore.
Maybe it's the same lame story, that running changed me, and even saved the me that I thought I was 20+ years ago.
The "what ifs" have given me great joy. I wasn't really imagining I would ever check-off the list of distances when I first created my header for this blog. A full marathon of 26.2 was the top goal in my mind at the time—because it's a beast! Back then, 50 miles seemed like a outrageous distance—a monster and parent to the beast. 100? Are you kidding me? That is the all-nighter zombie apocalypse. But I am in. I am in it to the end. It will take all the faith I have, all the positive voices I can conjure upon in my head for mojo, and the guidance of those who have conquered the 100 miler to get me through the dark on this one. There will be a celebration on the other side of that line—guaranteed!
So if you have some advice, I'm listening.
I still research and listen to advice and seek it from other runners, sports enthusiast, nutrition specialist, and I'm delighted when I come upon a new workout to PUSH me—just ask me about my latest discovery of Yasso 800s which isn't a new idea at all, but new to me. Sweet painful delight! I just have to have some more!
I don't have all the answers, but I'm here to stay—not giving up on living. And I love meeting like-minded people. During the last 6 years since I started running and training, I became hooked on pushing down the can nots. Somewhere I became hooked on dreaming BIG. Like Tom Venuto says,
"If your goal doesn't excite you and scare you at the same time, your goal is too small."
I am pretty much scaring the hell out of myself these days with one giant goal at a time.
This year I became an
INKnBURN
ambassador which is a great fit for me not only physically, but in theory as well: Made in America from start to finish, long-term durability, one piece made at a time, and with a creative, vibrant and dynamic outlook. It's active wear that I get excited about wearing!
It's going to be an exciting year to an already wonderful life. I hope you will enjoy my journey and that it helps you find your focused drive to do anything that calls to you.




ME Version 39.0
I am a design professional, wife and mother … and you guessed it, I heart running. It's the best hobby I have had besides art class—which I have loved since kindergarten and have made a career out of. I have come full circle from a veered-off sedative life path of sitting on my can—focused on education, work, work, work ambitions, and the mother-load of weight gain … two pregnancies. I have no regrets of my super drive backed with a never surrender mantra. BUT, I have learned that when my mental and physical health is last, that my lifestyle acts like kryptonite. 100lbs less on my scale, I have saved myself.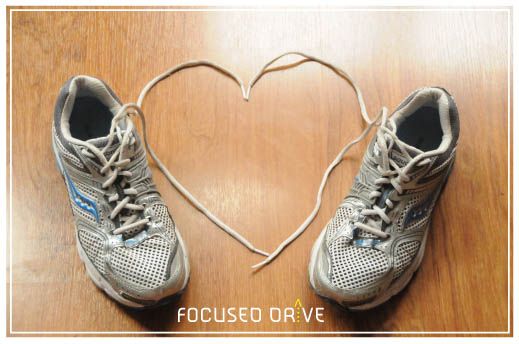 Through running, my body and life has changed to where I am meant to be mentally and physically. Not that I am done with this process. I thought about posting the me 3-8 years ago, which is literally unrecognizable today. I even looked up some old photos trying to find one that was somewhat attractive.
Verdict:
it ain't pretty and it ain't happening.
The face I see today, is an older version of the me from my early twenties and the young girl I was in my youth. The one that was active! I actually know this person. That
other
girl, well I feel bad for her, but I don't choose to see that everyday. I don't need a tattoo to say
"hey there, don't forget."
I am more
FOCUSED
on
living today
and setting new goals to
DRIVE
my future. Living as me is so much better that sitting.
As much as I hated running in gradeschool and highschool (sound familiar?), there are so many things that I find rewarding about distance running today.
MY TOP 26 INCLUDE:
1
I rediscovered Pat Benatar's "All Fired Up" because I never knew the distance I could go—
I must have replayed this 5 times in my last full marathon
2
I have exceeded what I thought I could do time and time again—
I remember .5 mile being rough, but I showed up again, coach, and pushing 2 kids in a stroller
3
I can listen to my own music—i
f you don't get why people like to listen to music while they run, then you have not ran for more than an hour on a daily basis
4
Believe, believe, believe—
it's mental Olympics
5
I find others that inspire me, and they sometimes make me cry
—you better believe that runners have some amazing survival stories
6
Sometimes I get so emotional I want to cry finishing a race or in a middle of a run
—what other sport does that?
7
I am constantly reading and discovering new things
8
I go on a journey and my family is waiting for me at the end—
sometimes running out in the roadrace to greet me … golden memories
9
My body has changed drastically in the last three years—
I wear fitted racerback tanks and am no longer afraid to go sleeveless, that's crazy right!
10
My resting heart rate is 53
—this translates as: athlete
11
Eat without shame
—I don't eat cake for dinner, most of the time
12
I discover
new "firsts"
to be had as an adult
13
There is always a finishline and reason to celebrate
14
I see God on each run and feel his presence on my skin, no matter the time of year
15
I am tougher
—the way he intended me to be and it's alright
16
I am grateful—
I pray on a run and give thanks for breath and even the pain
17
I embrace my introvert being
18
I am grounded after a run, no matter the day I may be having
19
I connect with like-minded, strong, positive people who also run
—it's a club you know
20
No excuses, there is no cheating here
—you did it or you did not
21
Fashionista—
I love it all!
22
I can't tell the ability within someone by viewing their outer packaging
23
Anyone can do it, but 1% realize it. I am part of an elite crowd
—can I get a shiny jacket to match my fly skirt?
24
There are 4 seasons for the sport
25
My husband can brag he is sleeps with a marathon runner
—took this from a friend mine and it's hot
26
There are moments of such highs from adrenaline that I should not be on facebook after
–or this blog
You're worth it. Find your
FOCUSED DRIVE.
Thanks for visiting.
JGP