2 Marathons + 1 Half within 30 Days = A Dragging Charlevoix Finish
I will never run that combination in 30 days again, unless I have lost my mind. In which case please remind me of Charlevoix 2012. Remind me that although I was heading into a PR at the half way mark that my quads were crying at mile 10 which never happens and the pain just grew. Remind me that I tried to get the next point in my head, but the moment without pain, never came. And by the last 4 miles I could not bend my left knee and was shuffling in with every step feeling like I was caring 300 pounds on my legs resembled a feeling of thunder striking. Remind me that the only reason I crossed and made it was because I repeat these words:
"The Body says "quit" and the Mind says "NEVER."
Remind me that if I am going to overtrain, to bring a friend and stop at each aid station to enjoy licorice, pretzels, ice cold drinks and what ever else they may have.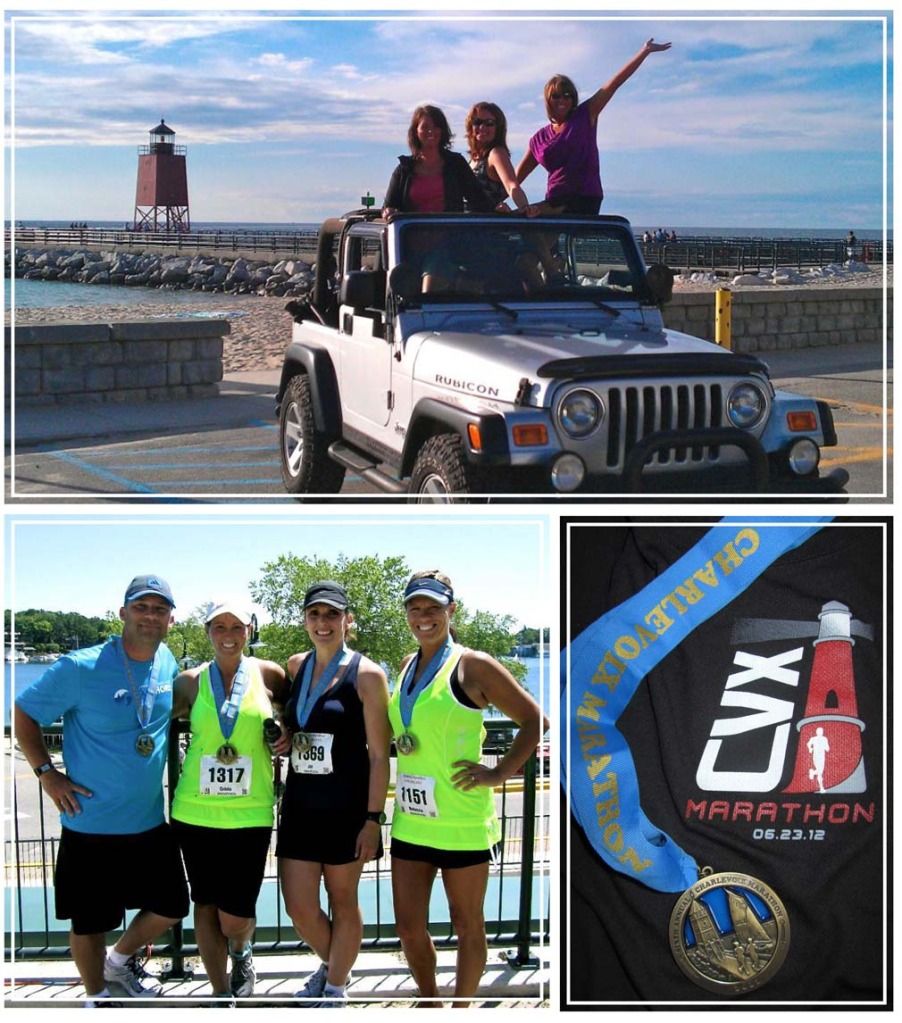 Some of the highlights on the course came from this being an unexpected tough run.
•
I made a lot of people feel good as they passed me after mile 20. That's right. You beat me.
•
I got a fist pound by one male runner as he passed at mile 24.
•
I talked to a mature runner afterwards who finally hit her PR and had passed me at mile 23. She asked me how my ankle was after the race. Yes, she could tell I was that pathetic as she passed me. How sweet of her to ask about my gimpy leg.
•
I met a guy at mile 11 who was on his 100th marathon run since 2006. He had just ran a 100 mile ultra the weekend before. Seriously! I was missing my run buddy with this conversation.
This was my full circle race. This was my first Marathon a year ago and marked 4 in one year. Although I did not run well, I still beat last year's time and with two rest stops. That is the way life goes. No pun intended.
Traveling and hanging out with a couple running friends is something I look forward to. This trip involves going to the Taffy Barrel, and then to Cherry Republic to start the appetizers—I mean samples. After our purchases there and some shopping, we ventured to dinner with our tour guide Mike. Mike allowed us to pose with is Jeep and take lots of photos of us. He also ran the Half Marathon with a PR and showed up at the finish line with chocolate milk! Being Crista's boyfriend, that really makes him her milk man. But we really appreciated the kindness.
Becky arranged for a great hotel location call Pointes North Inn, and they were very accommodating with providing bagels the night before and a late check-out. Our back door was literally outside the finish line and maybe 50 yards to the start. The only odd thing was the pull-out sofa sleeper (my bed). It had a mattress made of springs and lacked the padding. WHO would be able to sleep on that?? I stacked the cushions on top of the bed and made my own ridiculous princess bed. Yes! I am a problem solver. They should have a diagram of this procedure next to each pull-out sofa.
'Till next year Charlevoix....keep the awesome aid stations, shirts, friendly people and righteous medals coming.